Yiwu Hotels Near Futian Market (International Trade City / Center / Mall)
Yiwu Hotels Near Futian Market (International Trade City / Center / Mall)
Yiwu Small Hotels Near Futian Market/International Trade City (Center)
---
There are hundreds of small hotels near Yiwu futian market, priced from 15USD to 40USD per night. Some are pretty nice, clean, with not-THAT-friendly-service. All hotels have free wifi. Many over-25usd-per-night-hotels offer simple breakfasts.
Most important of all, these hotels are all located within 10mins walking distance from Futian market, which make it very convenient for buyers. They don't need to worry anything about traffic. They can even go back to hotel to have a rest whenever they want. Affordable rate also makes it easy for long-time-buyers who spend over 20days.
Yiwu futian market itself is very big. It takes up to one hour to walk from one end to the other end. So it becomes very important to choose the right hotel with right location.
If you simply check booking sites, all hotel tells you they're within 10 mins walking distance to market. But it can take 10 minutes plus 60 mins if you want to buy curtains if you stay in a hotel near district 1 of Futian market - this hotel is also within 10 minutes walking distance to Futian market.
A good practice would be asking someone who knows Yiwu market and hotel locations before booking, or you can simply come for a look first, if you're happy with their room and location, you can decide to stay. Most of these hotels don't require booking in advance. But you'd better come before 2pm, or some of the popular ones may not have rooms for you.



Below I hand-picked a few good ones, district by district, with their nearby products:
Good Small Hotels near Yiwu Futian Market (Yiwu Trade Center / Yiwu Mall) District Two, Three and Four.
Yiwu Hotels (4 Star and 5 Star) Near Futian Market/International Trade City (Center)
---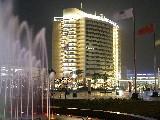 Best Western Premier Ocean Hotel
(Yiwu Zuijia Xifang Haiyang Jiudian)
★★★★ (4 Star)
✔ Distance: 0 minutes from market.
Combining modern Chinese-style decoration with modern Western-style decoration, this Yiwu hotel features 285 guestrooms, outfitted with air conditioning, "rainforest shower head", high-speed broadband internet access and VOD system. On the executive floors, VIP guests benefit from easy check in and out, Western-style breakfast and afternoon tea, wireless internet access, fax machines and free use of conference rooms.
Crown Plaza Yiwu Expo Hotel
(义乌皇冠假日酒店)
★★★★ (5 Star)
✔ Distance: 10 minutes drive from market when traffic is good. 0 minutes from Yiwu Expo Center. Opened : 2013 Number of rooms : 367 The Crowne Plaza Yiwu Expo (Yiwu Bolan Huangguan Jiari Jiudian) is located convenient to Yiwu International Expo Center and Yiwu Small Commodity Wholesale Market.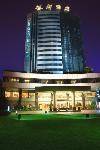 Yindu Hotel
★★★★ (4 Star)
✔ Distance: 10 minutes drive from market when traffic is good.
Conveniently located in the city's commercial area, the Yindu Hotel (Yindu Jiudian) is close to Binwang Market, Yiwu International Expo Center and Yiwu International Trade City.
Guests can enjoy dishes of Chinese and international flavors in this Yiwu hotel.